Submit Your Band's Music!
Hey Guys! If you are in a band, make sure that you are submitting your music to us for a chance to be featured on Punkology!  You can submit to our email (punkologyblog@gmail.com) or in the submission tab on the site. Hope to hear from your band! 
Gerard Way- Hesitant Alien (album teaser)
Motionless in White Added to Parks & Devastation Tour
Motionless In White has been added to the Parks & Devastation Tour. A Day To Remember is headlining, and they have Bring Me The Horizon, and Chiodos (and now) Motionless in White as their supporters! 
Enter Shikari Headed to Spain
Enter Shikari is playing three shows in Spain this December. Check out the dates below.
You Blew It! - Yesterday something awful happened. Our van... | Facebook
Yesterday something awful happened. Our van was robbed as it sat in a heavily trafficked parking lot in the middle of a hot, bright, San Antonio day. The…

We didn't post about this earlier but now seems like an appropriate time. When we were in Chicago last Saturday, our van got broken into and Warren's laptop and iPod got stolen. The thieves rooted through all of our stuff and threw it everywhere- luggage, our backpack with our guitar pedals we accidentally left in the car during the show, our bags of food, our GPS, etc. It was a mess, and we felt violated. But we got lucky because our guitars and other valuables were inside (it happened during our show in broad daylight), and they left mostly everything else. It was a big deal to us, but it wasn't as bad as it could have been. They they took very little. 

But our good friends in You Blew It! just had a break-in, and they weren't so lucky. They lost everything- all their gear, guitars, and personal items. Having had a brush with it recently, let me tell you how much that can ruin a band. We all work so hard to be able to afford nice gear, and those little essential luxuries that help us out enourmously on the road, like laptops, iPods, etc. We were fine, we don't need any help, but they do. Please, please, please find it in your heart to support them in their time of need. These are good people who deserve better than this.

Read up on how you can do that here: https://www.facebook.com/youblewitfl/posts/10152407128523509
We usually don't reblog stuff like this but this is super important. Please do everything that you can to help support this band and help them get back on their feet. It's a shame to see this happening so frequently, and especially to the people who work so hard, too. 
Modern Baseball and Petal cover "The New Year", originally by Death Cab for Cutie
Panic! At the Disco Announce Tour
Panic! At the Disco has announced a new tour this October in Brazil. Dates are below! 
Since BGL released a new record, Maybe We'll Live Forever and played a super cool record release show, Christina and Joe went over to go see it! They got to hang out with them and see what they thought about their work on the album. Big shout out and thanks to BGL for participating in the Punkology shenanigans, and also giving an interview in front of a chicken coop.
5 Seconds of Summer Announce Tour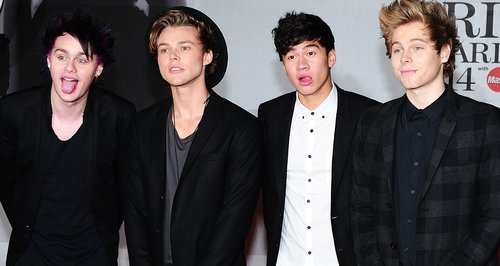 5SOS will be headed out on a North American tour now and through September. You can check out dates below.
The Big Time Announce New Album
The Big Time will be releasing their upcoming album, Imaginary Heart, on September 2nd and will be releasing a single entitled Rise or Ruin on August 3rd along with a music video and album pre-order.
You Me At Six- Room to Breathe (music video)
Citizen Announce New Tour
Citizen has announced that they will be going on their very first headlining tour with You Blew It!, Hostage Calm, Praise, and True Love. Dates are below.
August Burns Red- Beauty in Tragedy (music video)
Chiodos Crowd Surf America Setlist
Chiodos has been playing the Crowd Surf America tour this summer with Bless the Fall… Below is their setlist! Tell us what you think.
Relient K Announce New Tour
Above are the dates for the Reliant K "Mmhmm" Ten Year Anniversary Tour!
Theme